T20 Cricket World Cup Winners: A Historical Chronicle of Triumphs
Cricket, often hailed as a religion in countries like India, Australia, England, and Pakistan, witnesses periodic fervor whenever a World Cup event is around the corner. Among these, the T20 Cricket World Cup stands as a thrilling spectacle, where teams battle it out in the shortest format of the game. Over the years, this tournament has showcased exhilarating matches, fierce rivalries, and moments etched in cricketing history.
The tournament's inception in 2007 marked a paradigm shift in the cricketing world. Since then, teams have displayed remarkable sportsmanship and talent, providing cricket enthusiasts with unforgettable memories. Let's delve into the journey of T20 Cricket World Cup winners, reliving the triumphs and game-changing moments that have defined this esteemed tournament.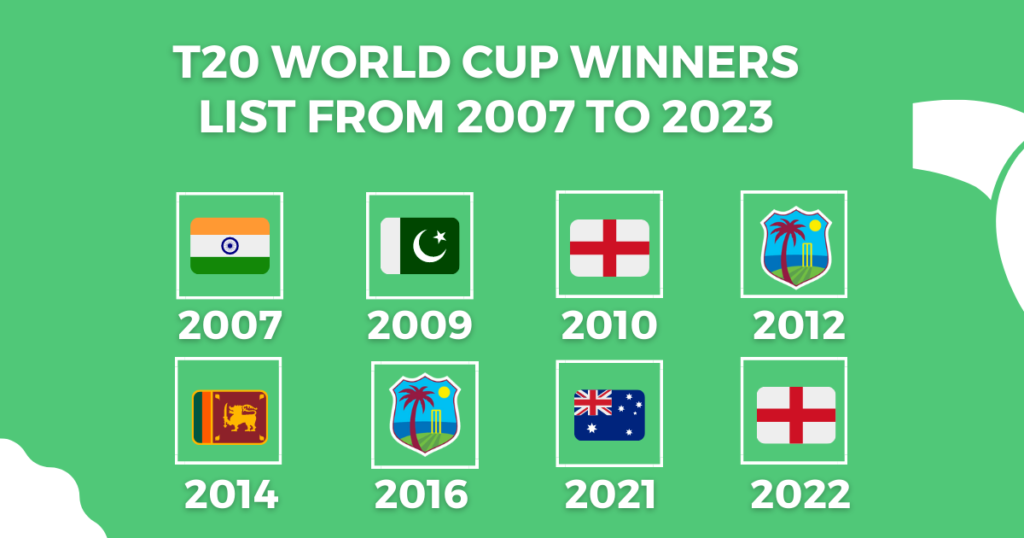 Why this News is Important:
The T20 Cricket World Cup winners' list holds immense significance for cricket enthusiasts and aspirants eyeing government exams. Understanding this history aids in comprehending the sport's evolution, team dynamics, and the mastery of players in high-stakes tournaments. Moreover, for those appearing for competitive exams, this knowledge serves as a crucial aspect in general awareness, enhancing their grasp on global sporting events and their historical impact.
Historical Context:
T20 cricket emerged as a dynamic format revolutionizing the sport, introducing fast-paced entertainment to cricket aficionados worldwide. Its inception in 2007 sparked a new era, enticing audiences with power-packed performances, nail-biting finishes, and unparalleled excitement. The tournament not only revolutionized the game but also reshaped cricket's global appeal, transcending boundaries and uniting diverse cultures through a shared love for the sport.
Key Takeaways from "T20 Cricket World Cup Winners List":
| Serial Number | Key Takeaway |
| --- | --- |
| 1. | India clinched the inaugural T20 World Cup in 2007. |
| 2. | West Indies secured back-to-back victories in 2012 and 2016. |
| 3. | Sri Lanka emerged as champions in the 2014 edition. |
| 4. | Australia claimed victory in the 2021 T20 World Cup. |
| 5. | England triumphed in the 2010 edition held in the Caribbean. |
"T20 Cricket World Cup winners list"
Important FAQs for Students from this News
Q: What was the most recent T20 Cricket World Cup winner?
A: Australia clinched victory in the 2021 T20 Cricket World Cup.
Q: Which country won the inaugural T20 Cricket World Cup?
A: India emerged as the champions in the first edition of the T20 Cricket World Cup held in 2007.
Q: How many times has the West Indies team won the T20 Cricket World Cup?
A: The West Indies secured victory twice, triumphing in both the 2012 and 2016 editions.
Q: Which year did Sri Lanka win the T20 Cricket World Cup?
A: Sri Lanka emerged victorious in the 2014 T20 Cricket World Cup.
Q: Which country has won the T20 Cricket World Cup the most number of times?
A: West Indies and England both have two titles each, making them the most successful teams in the history of the tournament.
Some Important Current Affairs Links