KEA PGCET 2022: Option entry begins today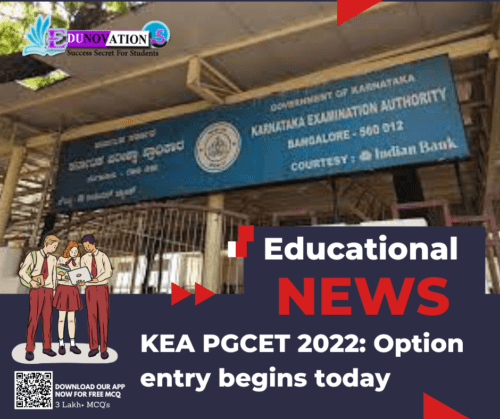 The Karnataka Examination Authority (KEA) will begin the web options entry process for round one of the KEA PGCET 2022 today, January 19. At 11 a.m., the portal will open.
The Karnataka PGCET option entry 2022 can be completed by eligible candidates via the KEA official website, kea.kar.nic.in. The PGCET web option entry deadline is January 23 at 11 a.m.
"Candidates are advised not to begin entering the options directly on the online option form without performing preparatory work at home on the selection of options because doing so causes mistakes, incorrect entries, and preferences to be entered in the wrong order." On a separate sheet of paper, the candidate should write down the name of the college and the course. It's important to make a list of the colleges that are most important to you.
A candidate can choose from any number of options based on their own priorities. The candidate must simultaneously select all disciplines. "Options can be exercised for all the discipline in the same entry form if the candidate is eligible for both MBA and MCA or MBA and M.E./M.Tech or M.Tech and MCA," stated KEA in an official notification.
On January 25, KEA will release the first round of the Karnataka PGCET 2022 seat allotment results. Candidates who are eligible can change their option entry from January 23 at 8 p.m. to January 25 at 11 a.m. Candidates are free to alter, reorder, delete, and add courses and colleges to their preferences after verifying the mock allotment results. Candidates have until 11:59 p.m. on January 26 to exercise their options.
Candidates for choice 1 and choice 2 can pay their KEA PGCET 2022 fees from January 27 to January 30, 2023.
By January 31, only candidates in choice 1 are required to report to the designated colleges. For the reporting process, candidates must download the admission order and bring all originals according to the verification slip.
For Educational News Click here
For Educational Notes Click here
For Previous year question paper Click here
For 3lakh+ free mcq questions with answers download the Edunovations app today