JEE Main 2023: Bombay HC to hear plea on exam postponement, 75% marks rule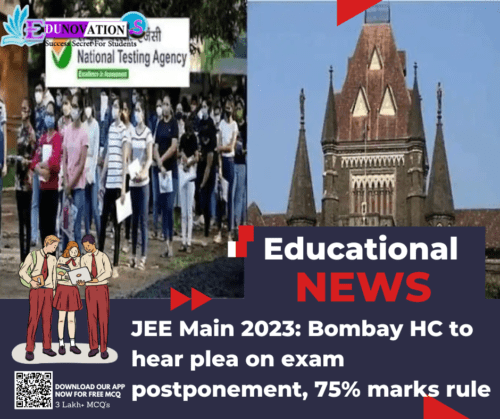 JEE Main 2023: The Bombay High Court will today (January 10) hear a plea that seeks a postponement of the Joint Entrance Examination (JEE) Mains 2023 and a relaxation of the eligibility criteria to appear in the test. The PIL filed by activist Anubha Srivastava Sahai has sought Bombay HC's directions to postpone the entrance test till April 2023 and to remove the 75% marks demand for JEE-based Engineering admission at government institutions.
During the last hearing, the bench of acting Chief Justice S V Gangapurwala and Justice Sandeep Marne asked the petitioners to annex NTA rules that are under challenge (the JEE Main information bulletin) and adjourned the matter to January 10.
The petitioners said till last year, the 75 percent rule wasn't applicable, and the "sudden change in eligibility" would affect lakhs of scholars. "The eligibility will hit scholars who can score high in the Mains examination but may not have 75 percent minimum marks in their board examinations," the PIL reads.
"Most of the state boards have listed their pre-board and board examinations for the month of January 2023. Therefore, scholars will find it difficult to appear for the Mains examination. The Mains examination planned in January 2023 is non-beneficial to them because they will not appear for the test.
Still, the main focus was on the eligibility criteria of 75% marks in HSC examinations. That said that the 75% marks criteria weren't there last year. Since many campaigners appearing for JEE Main this time are from batches that were assessed for board examinations based on alternative methods due to the COVID- 19 pandemic, many scored below 75% marks but could perform well in JEE Mains. The petition stated that if the criteria weren't set away, it would affect the future of many scholars.
For Educational News Click here
For Educational Notes Click here
For Previous year question paper Click here
For 3lakh+ free mcq questions with answers download the Edunovations app today